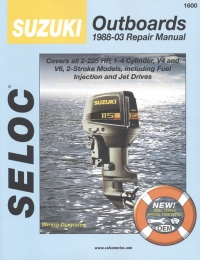 Click to View Large Image
Stock #1600
Suzuki Outboards 1988-2003 - 2-Stroke

Covers all 2-225 Hp, 1 to 3-cylinder, V4 and V6, 2-stroke models; includes Fuel Injection and Jet Drives.

For an example of what these manuals typicaly include, please click the "More Info" button to view our sample index for outboard engine manuals.

To view the Table of Contents and Master Index for this manual click here.